Have You Used LED Temporary String Light Before?
02/18/2023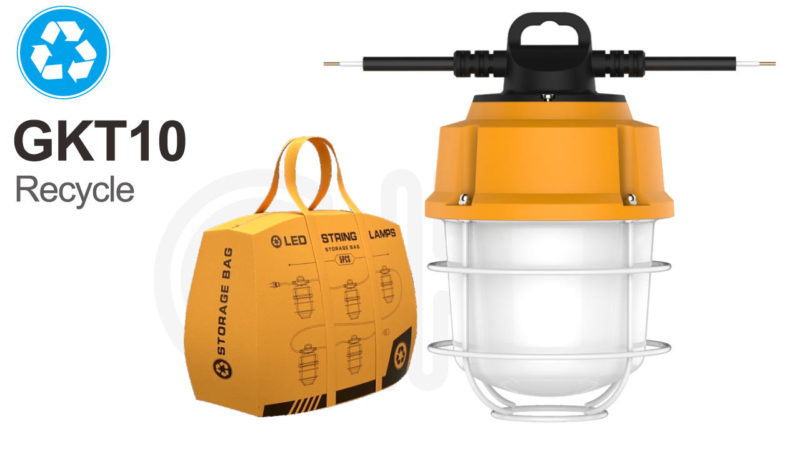 Guanke Lighting has just released a new caged style LED string light for temporary lighting that can be daisy chained for flexible illumination options, and features high output LED lamps producing 2000 lumens each. This 50-foot LED string light system is an efficient and reliable temporary work light solution for tunnels and underpasses.
GKT10 LED temporary string light system consists of 5, 20-watt LED globe style lamps providing a total of 10000 lumens – each globe light delivering more light output than a 150-watt incandescent.
The 20-watt LED bulbs draws 10% the electrical power of a standard 150-watt bulb, making them suitable for standard voltage and low voltage applications. Each LED light Integrated and the bulb is enclosed in a bird cage style plastic guard for protection. A hook eyelet that allows operators to hang these tasks lights overhead.
This 100-watt assembly operates on 120 /277 AC 50/60 Hz and is wet area approved. Multiple stringer sections can be daisy chained together 20 lamps for 400W.
The lamps are spaced out per phase with alternating legs, allowing these string lights to be connected, spanning up to two miles in length. Because the string in divided between phases, each individual lamp is operating at a maximum of 277V AC single phase. Previously, it would have been unrealistic to have a complete assembly reaching 50′ in length from a single point of power.
Five LED lamps can be found on the string, which extends to 50 feet. Ten feet of 14/3 GAW cable connects each lamp together. For seamless connections, the input side features a 5-foot line-in cable. In total, the entire system spans 60 feet in length. Each 20-watt LED lamp is protected by a cage guard for protection against rough contact, accidental bumping and light vibration.
The protective component contains wide spacing, which allows light beams to fully penetrate the guard resulting in 360 degrees of illumination. During use, the LED string lamp provides 1000 lumens of output at a rate of 2000 lumens per LED light.
The LED tunnel light caters to daisy chain connections (maximum of 20 string light systems) and is approved for use in wet locations. Constructed of aluminum, the components are lightweight and extremely durable. For mounting, a hook eyelet is available at the back of each LED lamp. The light heads are equipped with standard, E26 light sockets.
Compared to incandescent string lights, the GKT10-20W-05 features lower amp draw and provides brighter output. Maintenance and re-lamping costs with LEDs are also lower, due to the light's extended lifespan of 50,000+ hours. Safety at the work site is also increased via instant on capabilities without flickering or warm-up periods associated with fluorescent and metal halide fixtures.
Applications for the industrial LED temporary string light includes the following: tunnel lighting, warehouses, temporary lighting, overhead illumination, inspections, general illumination, task lighting, manufacturing, drafting and more.
"This stringer light system is a beast not only does each lamp utilize cutting-edge, energy efficient, high output LEDs, but even more lamps can be added to this mile-long unit to expand its reach up to two miles. This is ideal for temporary construction lighting in tunnels and other damp, dark locations that need extremely flexible lighting and a lot of it."
If you want to know more about this temporary working lights, please feel free to contact us by call +86 755 2716 5999 or send e-mail to seo@szguanke.com