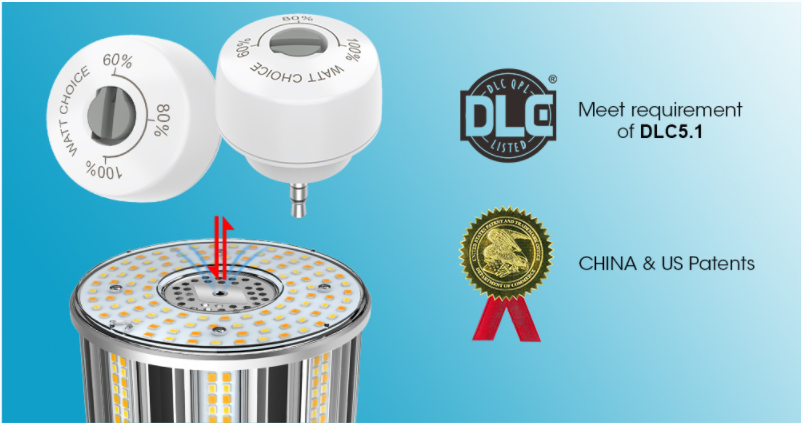 New Gen S39-19 DLC 5.1/UL/CE approval 18W-120W 150lm/w led corn light
360D design for most fixtures
High light efficacy, 150lm/w
Most compact size for total enclosed fixture
Higher quality guarantee,defect rate<0.5%
More watt option 18-120w 150lm/w and CCT selectable
DLC 5.1/UL/CE FCC UL FDA RoSH approval
Intelligent interface for plug and play sensors like MW sensor, PIR sensor, WIFI sensor etc
4 protections for led driver solution(Varistor/ lamp body/Power supply overheating, over-voltage protection)
1.Full range wattage optional in one series
Compared with the regular led corn bulb on the market, the double adjustable led corn bulb is available
from 18w to 120w which can replace 50w HPS/HID/HQI etc traditional street light. And it can be used for
total enclosed fixtures with a good heat dissipation, which the fixture like post top, shoebox, wall pack,
highbay etc., even 120w this kind of high watt. With E26 E27 Medium Screw Socket or E39 E40 Large
Mogul Base.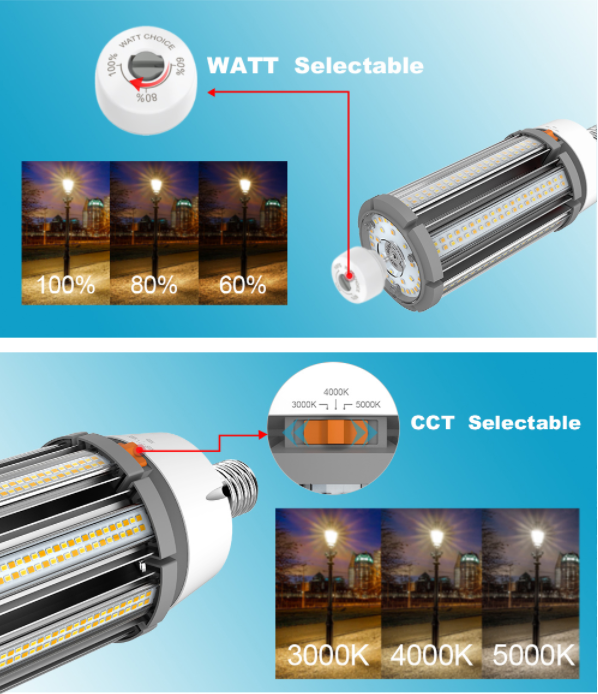 2.Double adjustable function
The first adjustable function is 3 selectable CCT which is 3000K/4000K/5000K for options. It indicates you
can save the SKU on inventory.The second adjustable function is watt choice on the plug and play sensor.
GK develops a new sensor for different wattage switch 60%, 80%, 100%.
For example, if you use 18w led corn bulb, the sensor settings at 60%, then the min wattage should be
around 10w.What's more, GK have many different plug and play sensors to meet different fixture application,
such as microwave sensor, PIR sensor, photocell sensor, WIFI sensor, Bluetooth sensor etc.
3.Meet DLC 5.1 requirement
As we known, the HID retrofits like led corn bulb can apply DLC on US and Canada market. And the newest
DLC requirement is 5.1 version, the bulb should be dimming and high lumen which is more than 150lm/w.
The double adjustable led corn bulb has listed DLC5.1 already. You can check the post on the official website
of DLC, and the model no. is GKS39-19.
4.Quard-protection (None for other manufacturers)
Most of the led corn bulb are used for the total enclosed fixtures. An unstable grid or improper installation,
such as the un-removal of ballast may cause high voltage in the circuit, this high voltage may lead to the
varistor overheated,and then the driver housing may get on fire and burn.
5. Installation and Warranty
GK offers 5 years warranty, Please contact us for replacement if you have any quality problems.
6. High Quality:
All of GK LED Corn Bulbs Passed by UL, CE, ROHS, FCC, FDA, EPA - with no dead corner, no flicker. GK is of
more than 10 years of experience in exporting to Europe, America and other countries. Factory Sells Directly
with competitve prices for LED Corn Bulbs.
The advantages of GK overvoltage/overheat protection products
A.Varistor overheating protection
Preventing housing melting due to the heat from the varistor, which is caused by excessive voltage input
from power grid or any failure components.
B.Lamp body overheat protection
C.Power supply overheat protection
Either overheat protection of the lamp body or the power supply is activated, the lamp power will drop
to 70% of itself;if both are activated, the power will drop to 55%. When the lamp body and driver
temperature is lower to the reset temperature,the lamp power will go back to 100% automatically.
D.Overvoltage protection
Preventing the lamp from risk of overvoltage,when input voltage detection detect the input voltage is
over 320V,the lamp will flicker and not lighting,when the input voltage go back to lower than 320V, the
lamp will start to work normally automatically.
Trading with Trust, Pruchasing from Manufacturer directly!
More Interested? Contact Us Through Below Form for A Remote Factory Visiting And Place A Trial Order.
New Gen S39-19 DLC 5.1/UL/CE approval 18W-120W 150lm/w led corn light