Fanless Design LED Corn Bulb
Introducing the 54W High Output LED Corn bulb For 200W HID Replacement, EX39 Mogul Base, UL Listed, DLC Qualified, 100-277VAC
· Ultimate light output with minimal energy consumption
· Eliminate unwanted heat
· High quality lighting
· Exceptional bright 5900 lumen at stunning 110lm/watt
· Exceptionally durable with a 45000+ hour lifespan
· Save up to 82% on your energy bill instantly by replacing your 300W with an ultra efficient 54W High Output LED Corn Light
· Up to 75% More Efficient than HID Equivalent
· Longer life and lower maintenance cost
· 6Kv Surge Protector
· Mercury / Lead / UV / IR free
· Instant on, no warm up or start time
· 70% Lumen Maintenance
· Approved For Use In totally enclosed fixtures
· Great For High Bay, Low Bay, Area Light, Wall Packs, Post Tops, Parking Lot Lights
· 5 Years Warranty
Our Corn Light Dustproof are IP64 Rated, and have a 360 degree beam angle which is ideal for lighting commercial and industrial spaces such as warehouses, storage rooms, factories, supermarkets and shopping malls.
This high power bulb is very energy efficient: 8x as efficient as incandescent bulbs, 5x as efficient as metal halide bulbs, and twice as efficient as compact fluorescent bulbs.
This bulb is equipped with an internal driver, and cooling fan for safety and reliability.
MODEL NO

VOLTAGE

LUMEN

WEIGHT
(lbs÷2.2=kg)

EQUAL TO

GKS28-19W PLUS

100-277VAC
50/60Hz

1900±200lm

NW 0.75lbs
GW 0.86lbs

75W
HPS MHL

GKS28-24W PLUS

100-277VAC
50/60Hz

2400±200lm

NW 0.76lbs
GW 0.90lbs

100W
HPS MHL

GKS28-27W PLUS

100-277VAC
50/60Hz

2900±200lm

NW 1.54lbs
GW 1.76lbs

150W
HPS MHL

GKS28-36W PLUS

100-277VAC
50/60Hz

3900±200lm

NW 1.59lbs
GW 1.81lbs

175W
HPS MHL

GKS28-45W PLUS

100-277VAC
50/60Hz

4900±200lm

NW 1.76lbs
GW 1.98lbs

200W
HPS MHL

GKS28-54W PLUS

100-277VAC
50/60Hz

5900±200lm

NW 1.94lbs
GW 2.20lbs

250W
HPS MHL
DxL(unit:inch inchx25.4=mm)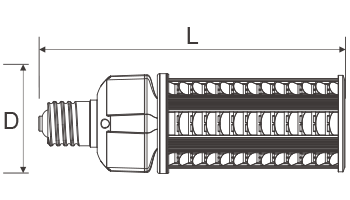 | | | | | | |
| --- | --- | --- | --- | --- | --- |
| WATTBASE | E26 | E27 | E39 | EX39 | E40 |
| 19w | ∅2.52*6.85 | ∅2.52*6.89 | ∅2.52*7.28 | | ∅2.52*7.48 |
| 24w | ∅2.52*7.32 | ∅2.52*7.36 | ∅2.52*7.76 | | ∅2.52*7.95 |
| 27W | ∅3.43*7.56 | ∅3.43*7.64 | ∅3.43*8.00 | ∅3.43*8.03 | ∅3.43*8.19 |
| 36W | ∅3.43*8.03 | ∅3.43*8.11 | ∅3.43*8.50 | ∅3.43*8.82 | ∅3.43*8.98 |
| 45W | ∅3.43*8.97 | ∅3.43*9.06 | ∅3.43*9.41 | ∅3.43*9.45 | ∅3.43*9.61 |
| 54W | ∅3.43*9.92 | ∅3.43*10.00 | ∅3.43*10.35 | ∅3.43*10.39 | ∅3.43*10.55 |