Gatling temporary led work light from GK
02/06/2023
GK focus on led solutions which is developing a new temporary led work light, with a release expected on 7th June of 2022. It's a total new portable light on the market. This product is called Gatling, which designed for high performance. As we known, Gatling has always been one of the strong representatives of individual heavy weapons with tough, strong, and highly recognizable style. We extend Gatling's solid and sturdy style to the portable work light design.
1. Four style light modes
Gatling is a multiple portable light with four style light modes for different application.
1.1 360° mode: all the front and rear lights are on;
1.2 180° mode: the front half of the lights are on;
1.3 Spotlight: It can be take it by hand when you are walking at night
1.4 Warning light: It can be used for road rescue or for help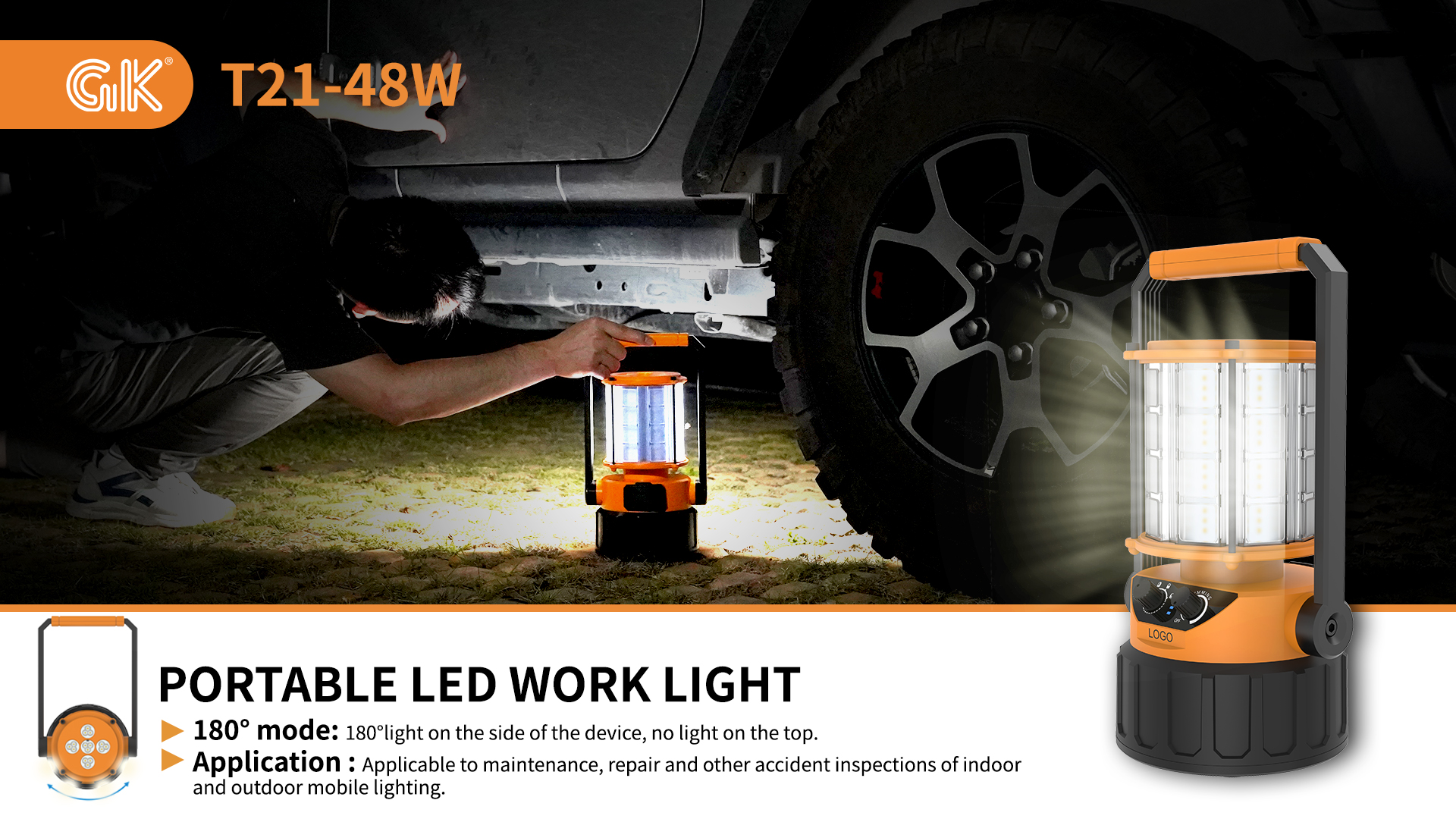 2.Built-in 18650 battery pack
The battery pack has a built-in battery IC chip management system, which can protection, charging over-current protection, short circuit protection, over-temperature protection at charging and discharging points to protect personal safety during the use of lithium batteries.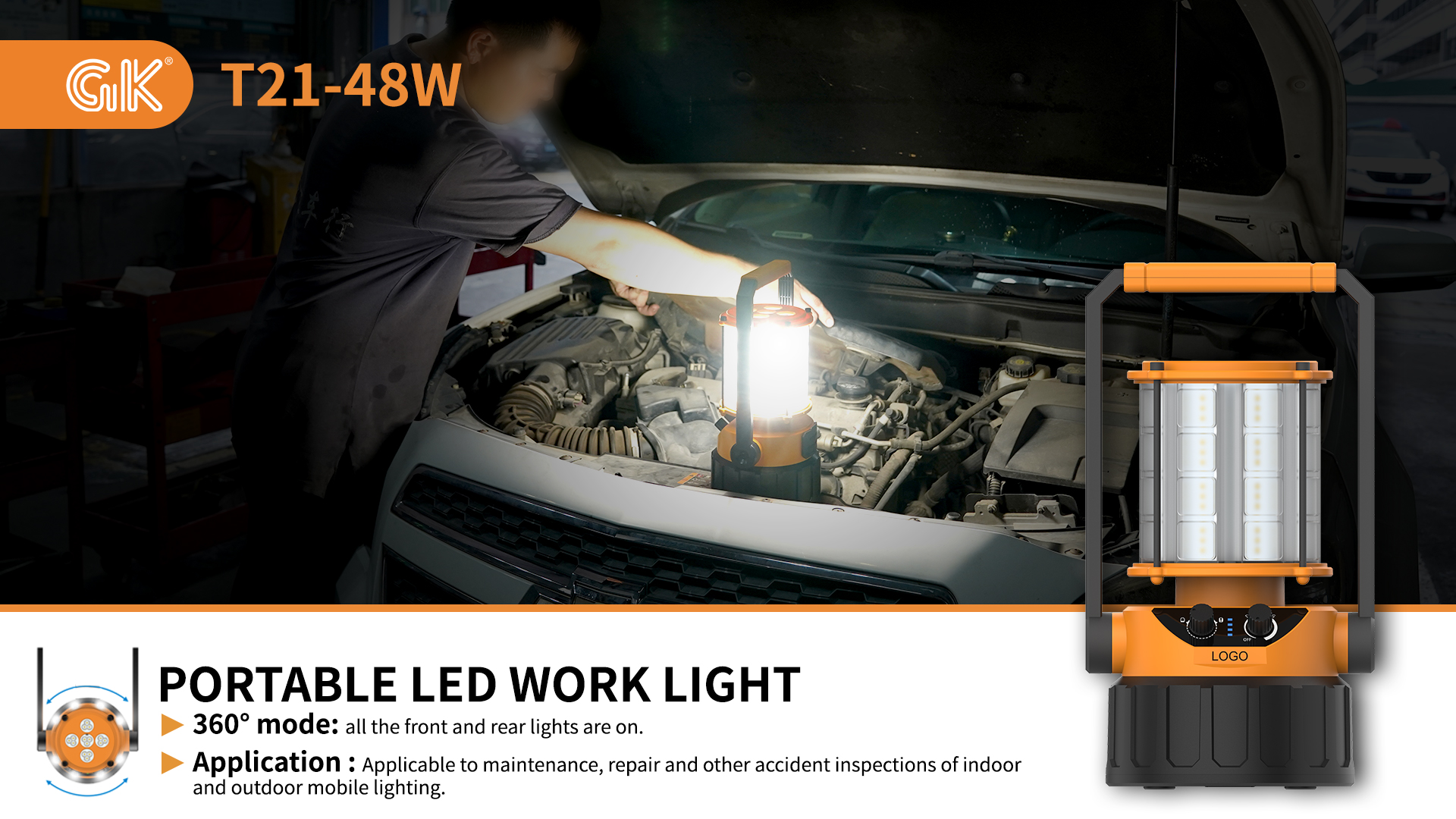 3.Detachable power cord
The power cord is detachable. There is a charging port on the fixture, which can unplug the power cord when using the built-in battery. It is more convenient for mobile use. And there is also a USB power output port on the fixture, you can charge mobile electronic products.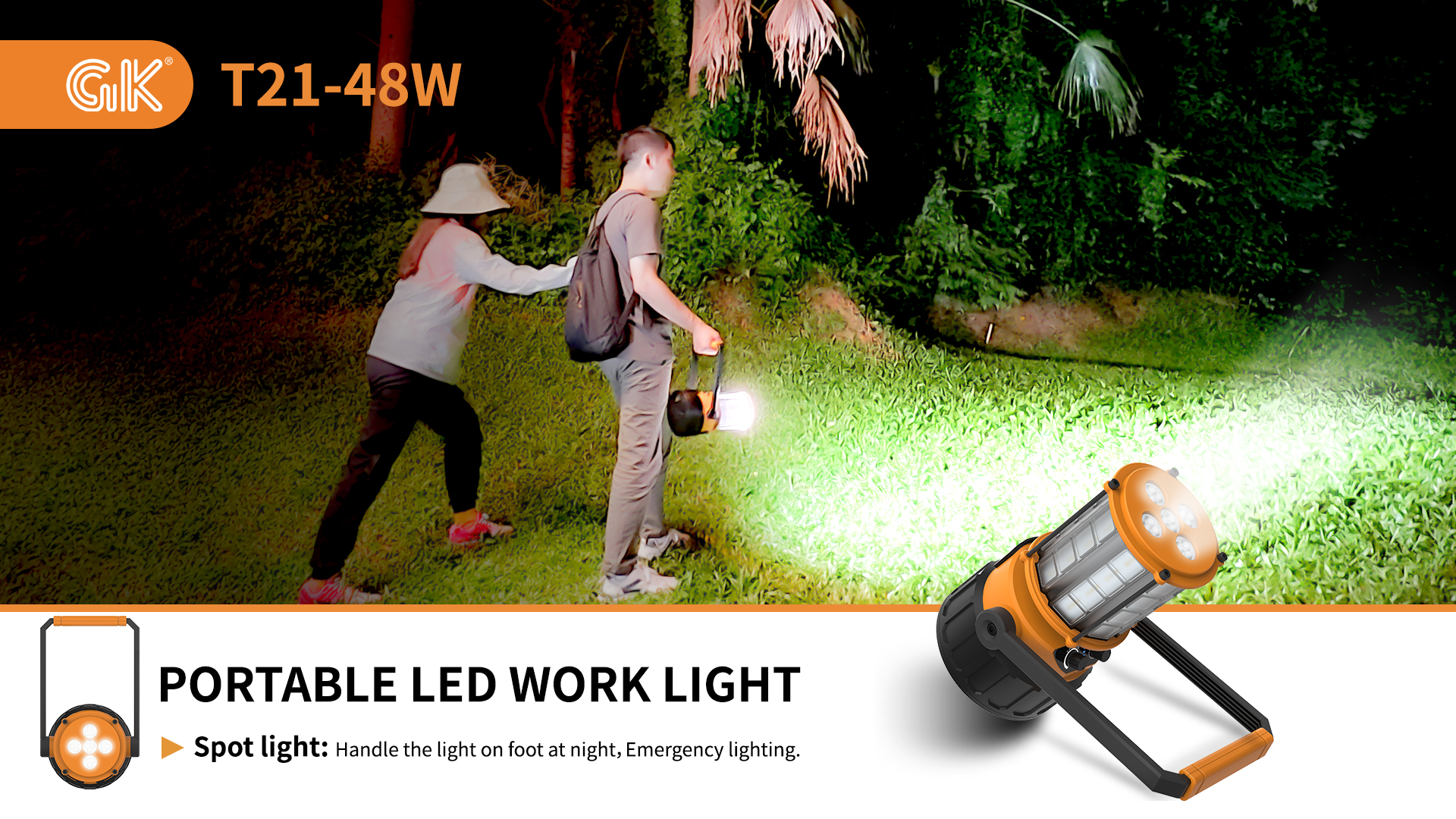 4.Knob switch function
The left knob mainly controls the light mode like 360°/180°/spotlight/warnlight mode, the right knob mainly controls the product switch and brightness, and the power capacity can be checked in the middle of the knobs.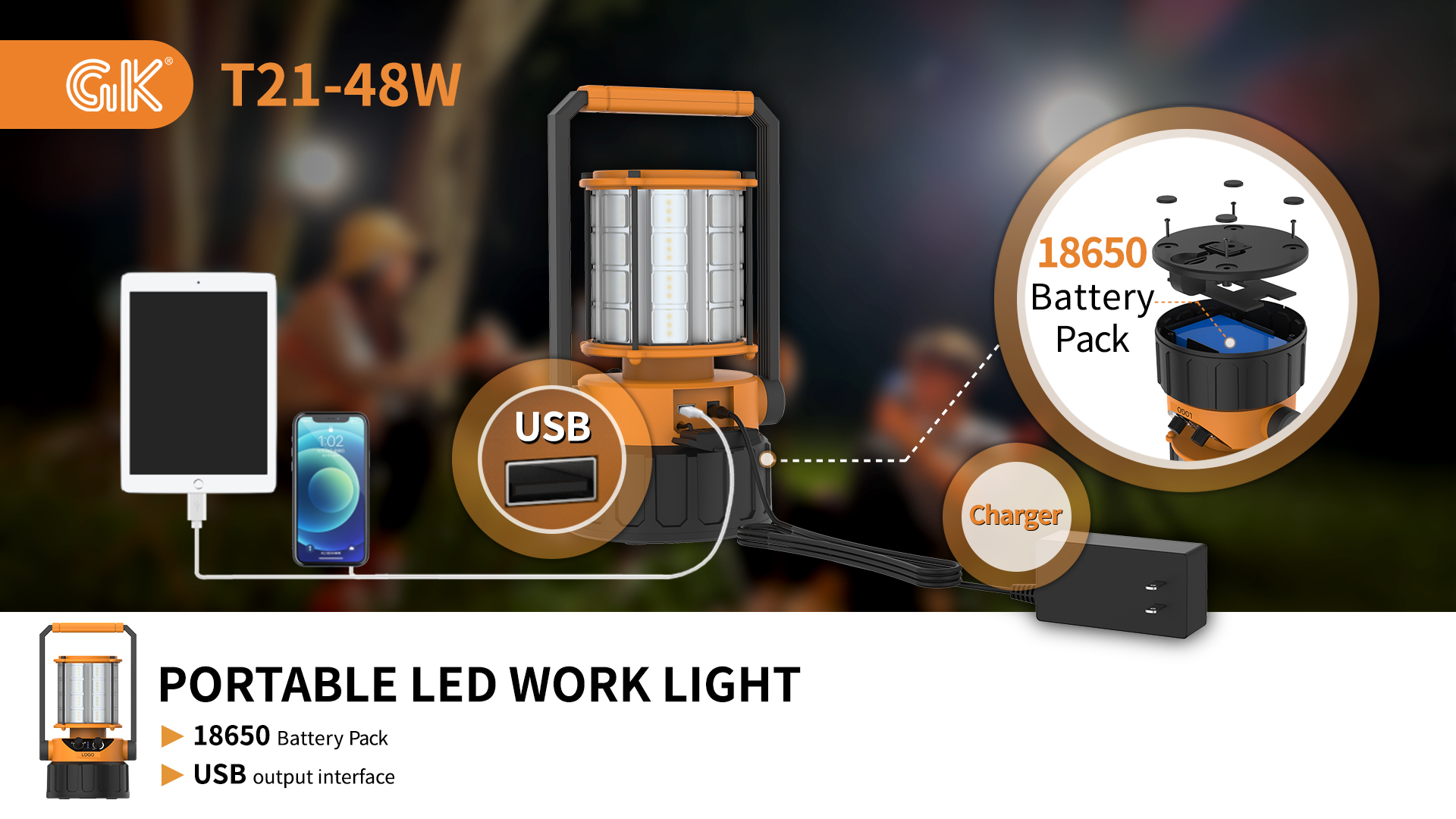 5.Different usages
Portable with your hands, hanging with hook, hanging with eyebolt, tripod stand for options.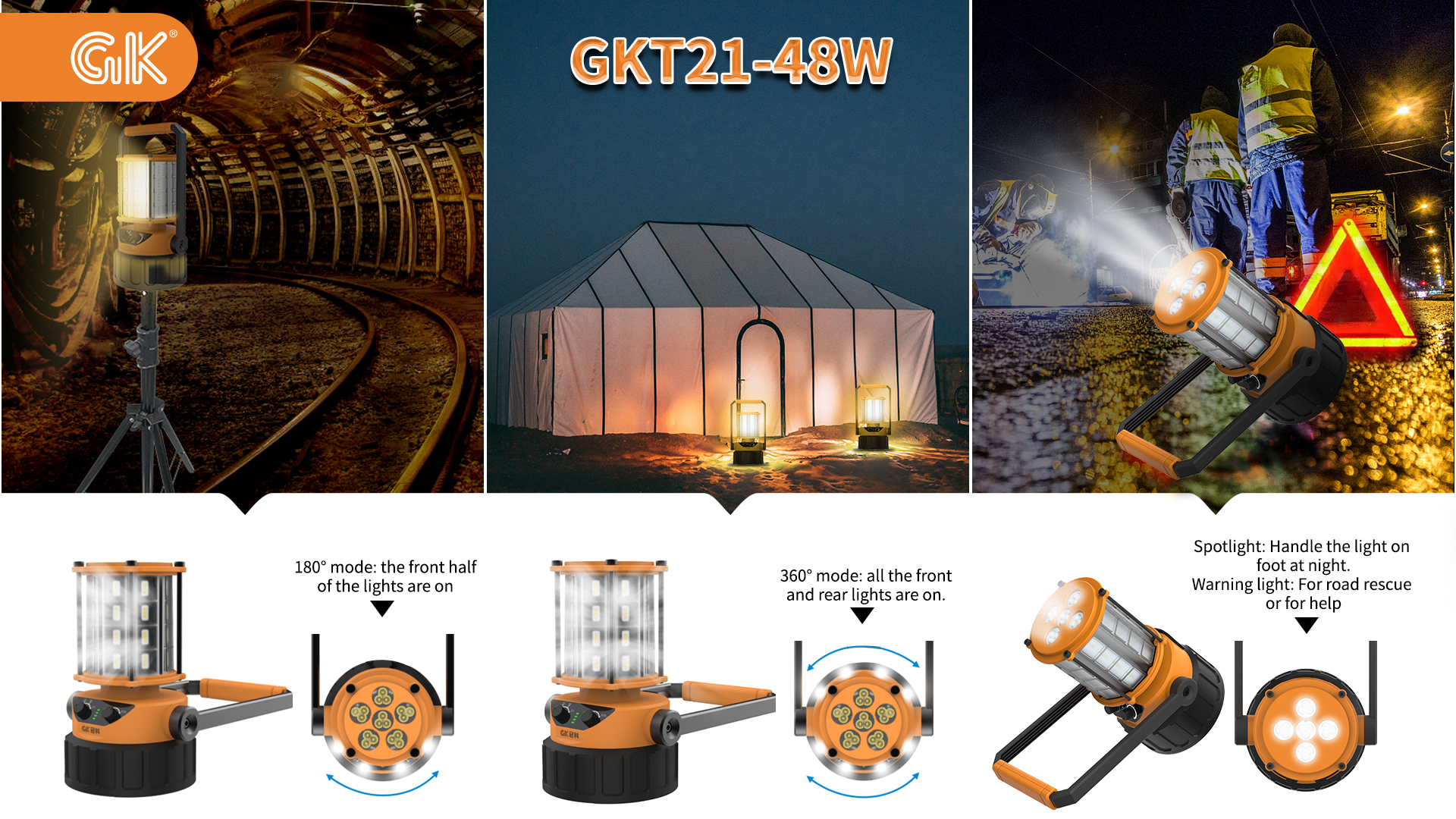 About GK-Temporary led work light
GK global service manufacturer focused on led solutions over 10 years which located in Shenzhen, China with around 500 employees and 50,000 square meters factory plant. We have powerful R&D team and advanced detecting instruments which made 12-15 new products innovated per year. 208 patents were issued by domestic and overseas market is the great witness of our innovation. Our LED products are mainly exported to North America, Europe, Australia, Japan and South Korea.

We always insist "quality first, customer foremost "and keep innovation for establishing a long-term cooperation with our clients. Trust us, make your wise decision today!